Blogg 5 essensielle telefongadgets for å drive din lille bedrift
Ifølge en nylig studie av Smart Insights eier 80% av internett brukere nå en smarttelefon. Dette tallet er sannsynligvis nærmere 99% på arbeidsplassen din!
1) En induktiv lader for din smarttelefon
En induktiv lader, også kjent som en
trådløs lader
, tilbyr deg en praktisk og stilig måte å lade telefonen din på. Våre induktive ladere er kombatible med Qi-aktiverte enheter, ellers kjent som trådløs lad-bare enheter. Du kan ganske enkelt legge telefonen din på den induktive laderen, og den vil begynne å lades. Mange av våre kunder bruker dem på sitt kontor, arrangementer og i deres butikker og kafeer.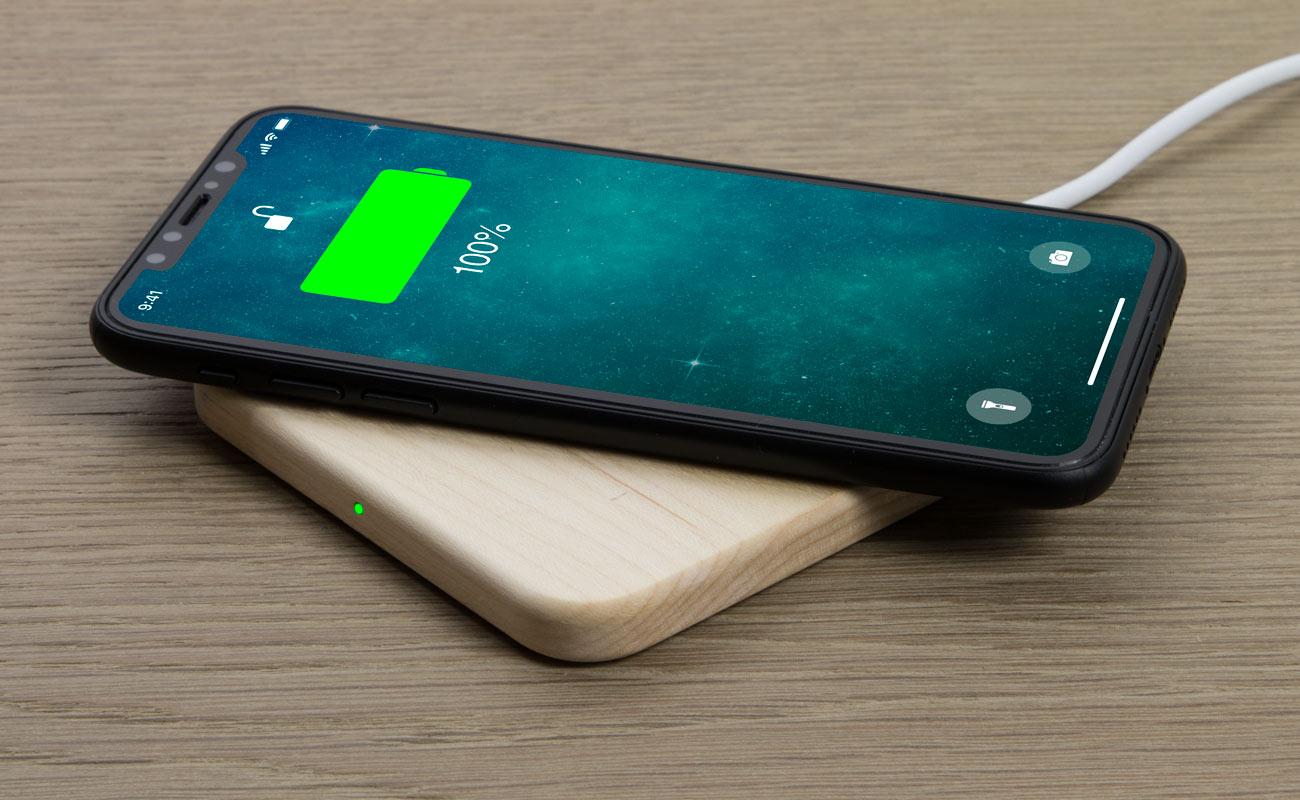 2) En minnepinne til din smarttelefon
Når du møter kunder vil du kunne vise frem arbeidet ditt mens du er på farten. Men å flytte store filer krever fremdeles rask intetnettforbindelse, så det hjelper å ha en
minnepinne
som kan kobles til din smarttelefon slik at du får tilgang til informasjonen på farten.
Det er derfor det å ha en minnepinne med to koblinger er lurt. Dette vil tillate deg å overføre data fra din PC eller bærbar enhet via USB uttaket til smarttelefonen din sømløst. Dette gjør den til et perfekt tilbehør for forretnings møtet, klientpresentasjoner eller til og med å frigjøre plass på telefonen når du tar bilder og videoer til din bedrift.
Minnepinnen
med to koblinger tilbyr en standard USB kontakt i den ene enden og valget mellom micro USB og USB-C i den andre enden.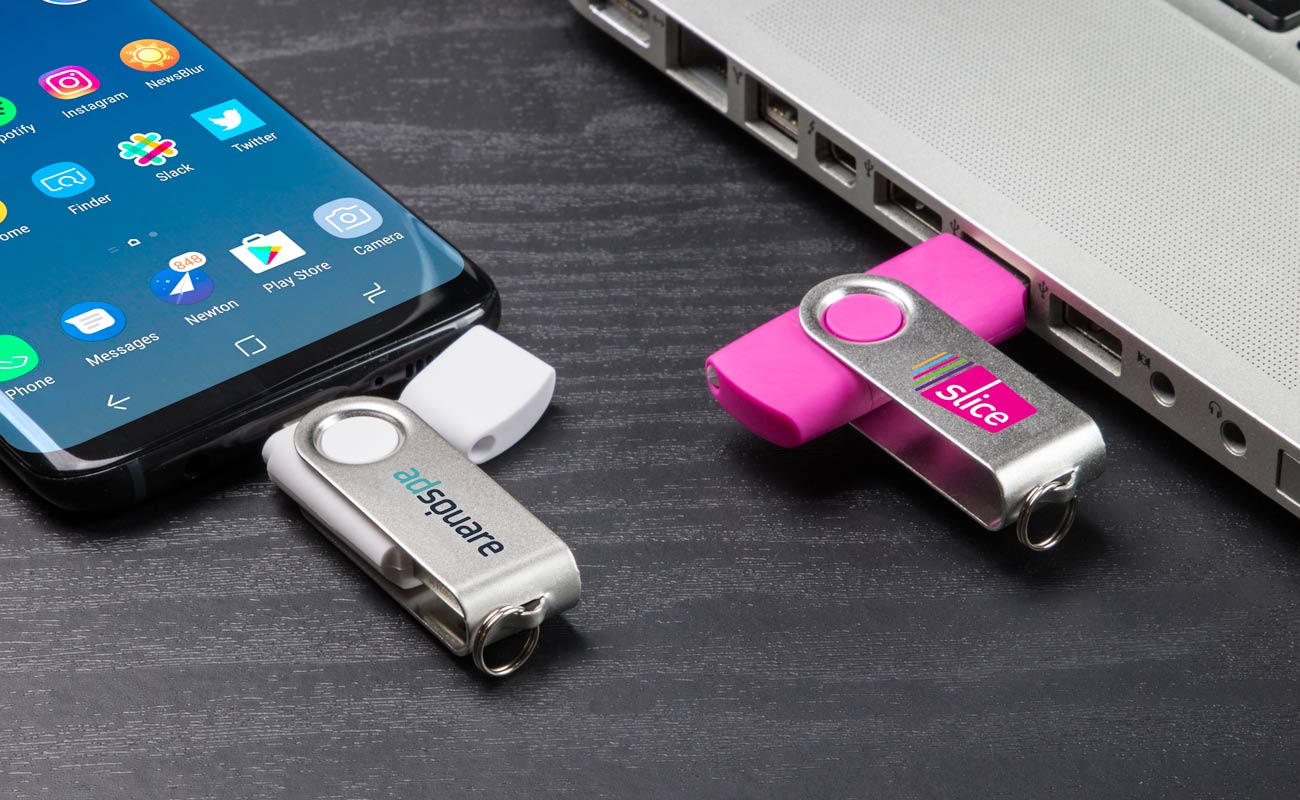 3) Trådløst Bluetooth® hodetelefoner
Mens du er på farten, er det viktig at du fortsatt kan ringe til dine ansatte eller kunder. Ofte kan det være vanskelig å holde telefonen og ha en samtale mens du er på farten. Derfor er
trådløse Bluetooth® hodetelefoner
det perfekte tilbehør. Dette lar deg ikke kun lytte til musikk fra smarttelefonen din, men også ringe og motta anrop trådløst. De fleste Bluetooth® hodetelefoner leveres også med en mikrofon som gjør at du kan ringe og motta samtaler mens du er på farten uten å måtte finne telefonkablene dine når en samtale er innkommende. Du kan nå svare på anrop uten forsinkelse og nyte lyden av høyere kvalitet som de trådløse Bluetooth®-hodetelefonene tilbyr. Bluetooth®-hodetelefoner tillater også enkel sammenkobling til smarttelefonen. Så om du har en iPhone, Android eller Windows mobil enhet, så lenge du har Bluetooth®-funksjonen, kan hodetelefonene koble til. Vennligst sjekk telefonens spesifikasjoner for å forsikre deg om det.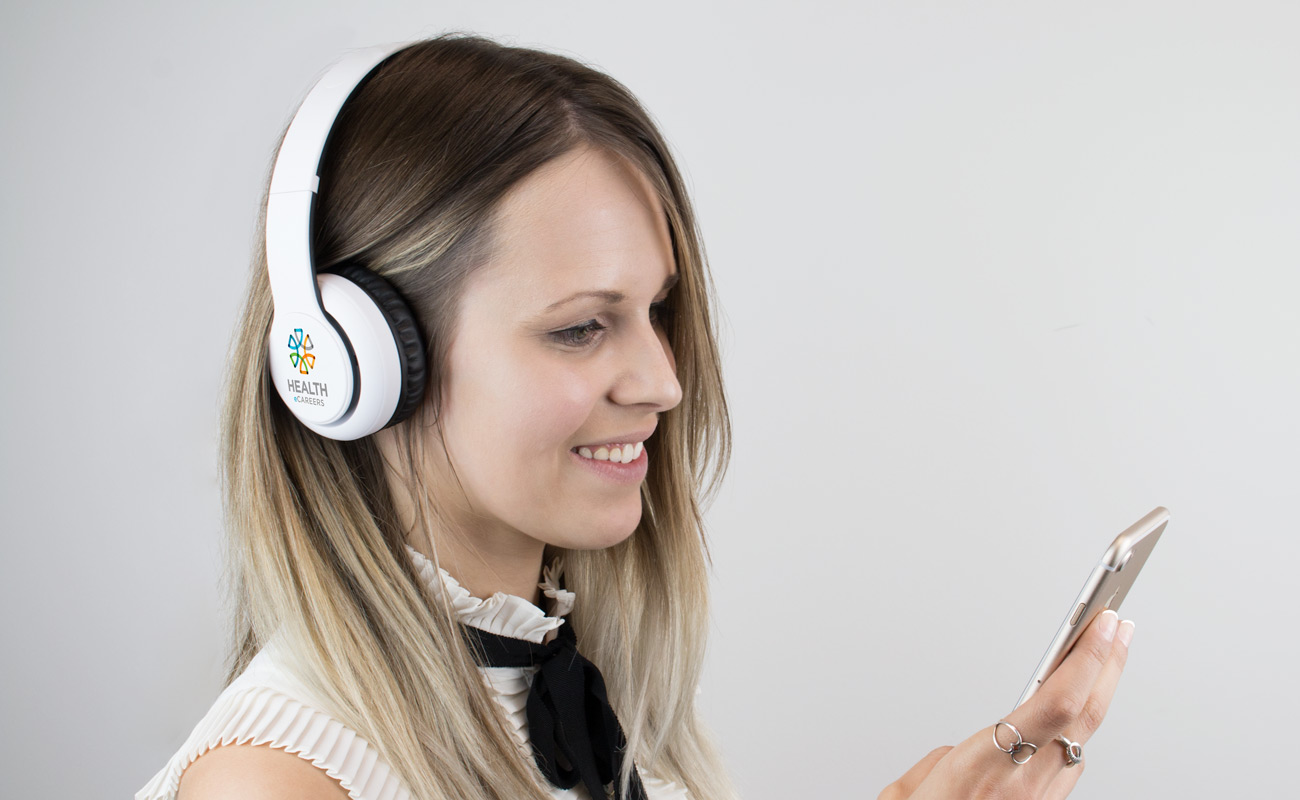 4) Bluetooth® høyttalere
Bluetooth® høyttalere gir deg lyd av høy kvalitet uten at du trenger å stole på din bærbare datamaskin, nettbrett eller smarttelefon. Med Bluetooth®-høyttalere kan du dra nytte av bedre lyd i følgende situasjoner:
Utføre presentasjoner med lyd

Visning av bedriftsvideoene dine

Hjelpe din stand til å bli lagt merke til ved et arrangement

Forbedre lyden av en kunde sin samtale
Bakgrunnsmusikk i butikken din og mye mer
For å koble til, slår du bare på Bluetooth® innstillinger på telefonen og sørger for at høyttaleren også er slått på. Synkroniser begge enhetene med ett enkelt klikk på en knapp. Med
Bluetooth® høyttalere
kan du også bære høyttalerne uansett hvor du går, og må ikke stole på lyden fra din laptop eller mobiltelefon. Kompatibel med både iPhone og Android enheter som har Bluetooth® funksjonen. Som en ekstra bonus, inkluderer enkelte Bluetooth®-høyttalermodeller også en mikrofon for
håndsfri oppringing og svar.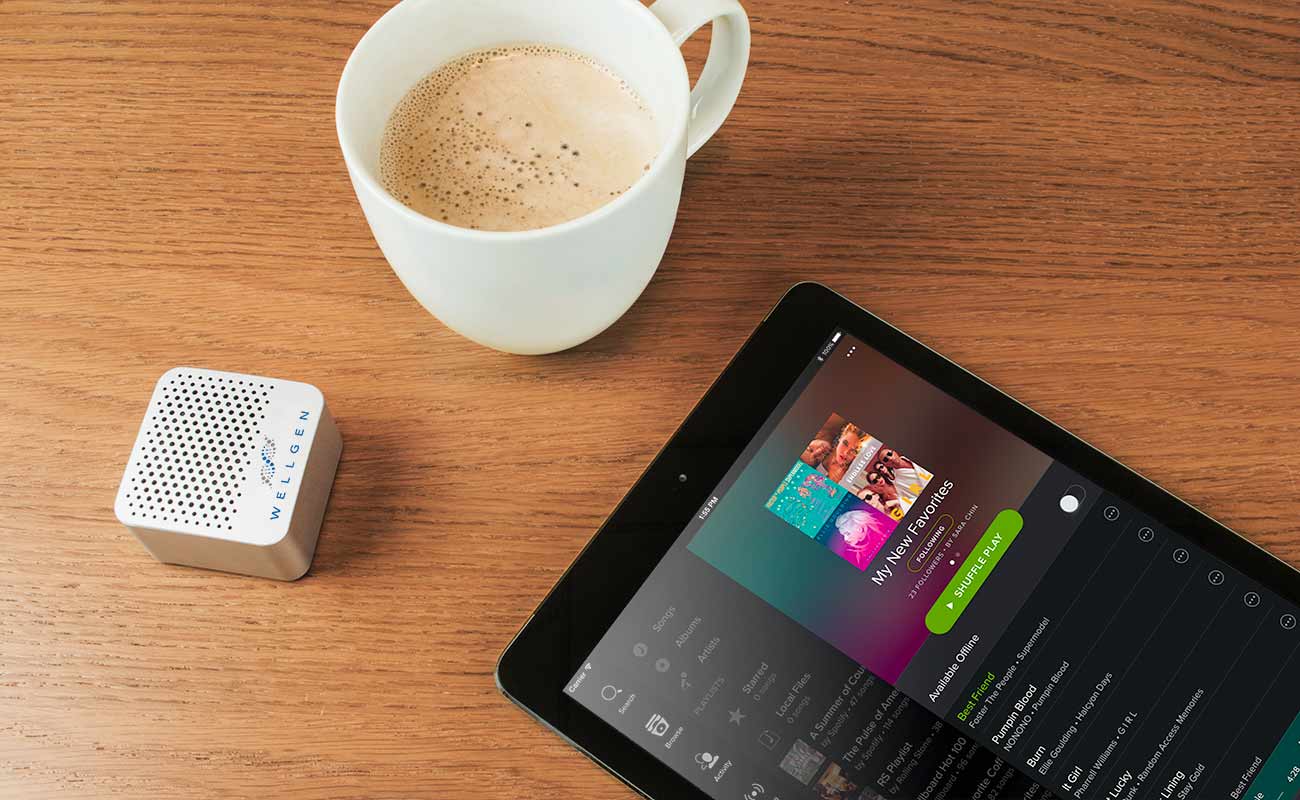 5) En trofast powerbank
De fleste ser seg nødt til å lade mobilen iløpet av en dag. Men hva om du er ute av kontoret eller ikke i bilen? Svaret er enkelt, en
bærbar powerbank
som kan lade din telefon på kort tid.
Vårt utvalg av powerbanks kan merkes med din logo, slagord, nettside, konferansedetaljer og mer. Våre modeller kommer i et stort utvalg av batterikapasiteter, fra 1,000mAh helt opp til 10,050mAh.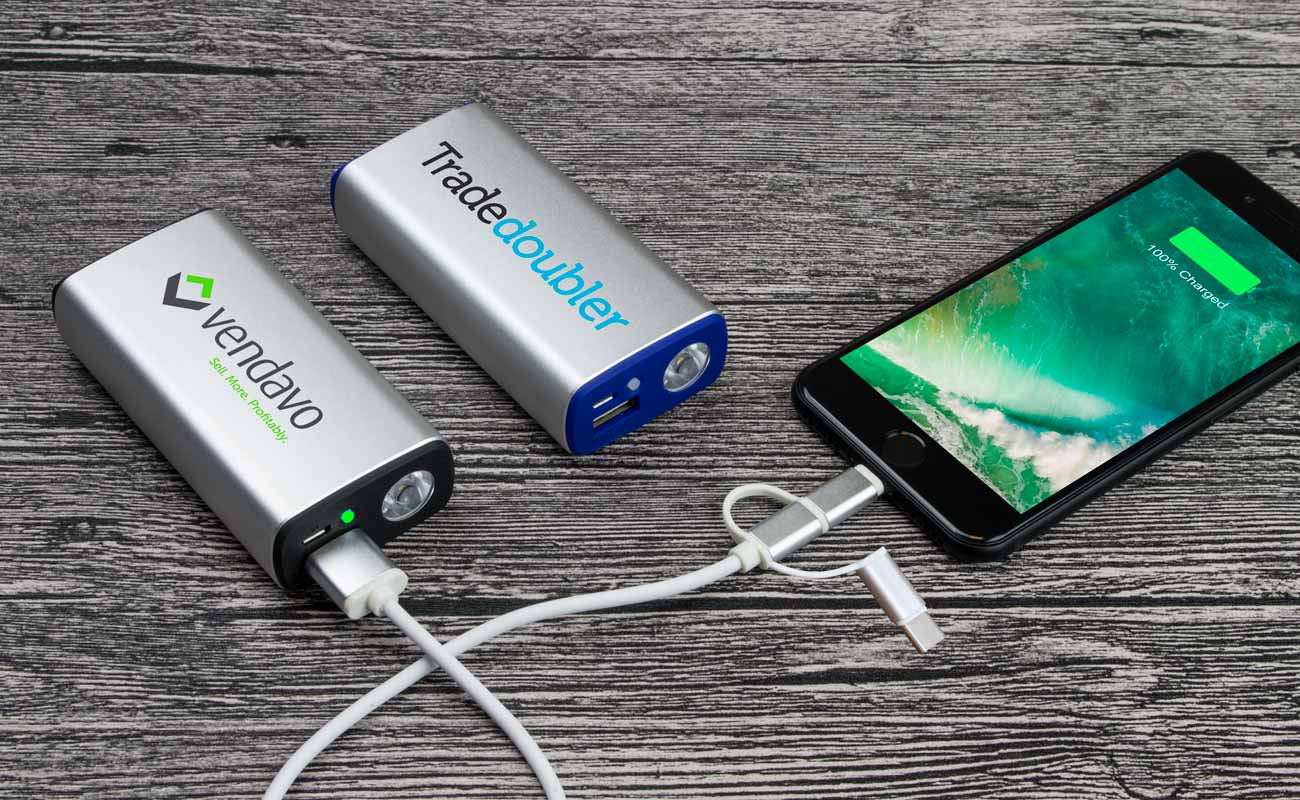 Du kan se flere unike eksempler for ditt firma på vår hjemmesiden, der du også kan
be om et tilbud.
En av våre dedikerte kundekonsulenter vil komme i kontakt med deg innen kort tid med priser og vareprøver om det er ønskelig.
Du er velkommen til å kommentere nedenfor og fortelle hvilke telefon tilbehør du bruker for ditt firma.